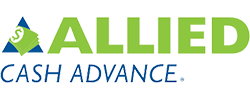 Allied Cash Advance
Payday Loans Online
is a hassle-free process with no paperwork.
---
Allied Cash Advance is a payday loans company that provides quick, easy, and hassle-free loans to people in need. With Allied Cash Advance, you can get the money you need without having to go through a long and tedious loan application process.
Allied Cash Advance was founded in 1998. With over two decades of experience, the company has become one of the most trusted and reliable payday loans providers in the country.
Allied Cash Advance operates in over 30 states across the country. No matter where you live, you can likely take advantage of the company's services.
Allied Cash Advance Has 10 Local Stores In 2 States
All Allied Cash Advance Offices
by Rating
Office Address

212 reviews

1221 M-89 Suite 400,

Plainwell, MI

Michigan

49080

permanently closed

179 reviews

3152 S. Western Avenue Unit A,

Marion, IN

Indiana

46953

permanently closed

105 reviews

1013 S. Beacon Blvd.,

Grand Haven, MI

Michigan

49417

permanently closed

74 reviews

8830 E. 34 Road,

Cadillac, MI

Michigan

49601

permanently closed

69 reviews

301 Maplewood Drive Suite 1B,

Greenville, MI

Michigan

48838

tel: 616-225-9122

150 reviews

1633 S. Merriman Road,

Westland, MI

Michigan

48186

permanently closed

83 reviews

1021 W. Main Street,

Fremont, MI

Michigan

49412

permanently closed

133 reviews

5210 S. Cedar Street,

Lansing, MI

Michigan

48911

permanently closed

112 reviews

4802 Indianapolis Boulevard Unit A,

East Chicago, IN

Indiana

46312

permanently closed

42 reviews

73 54th Street Suite B,

Grand Rapids, MI

Michigan

49548

permanently closed
Allied Cash Advance has 11 CFPB Complaints
Complaints over Years
Top 5 Allied Cash Advance Complaints Issues
Charged fees or interest you didn't expect: 3
Taking/threatening an illegal action: 2
Attempts to collect debt not owed: 2
Struggling to pay your loan: 1
Problem with the payoff process at the end of the loan: 1

301 Maplewood Drive Suite 1B, Greenville, MI 48838

301 Maplewood Drive Suite 1B, Greenville, MI 48838