Choosing a Debt Collection Attorney in 2021 [If You are a Creditor] + 3 Examples
---
Table of Contents
---
A debt collection attorney can help you get your money back where regular collectors fail. However, an attorney can charge you a fee even if the debt is not recovered.
How do you know it's time to hire a debt attorney – and how do you choose among hundreds of offers on the market?
Do you have a Debt Problem? Try for a Free Consultation.
Try Other Means First
Chasing debtors is a part of life for any business owner. According to statistics, bad debts represent 60% of all the money owed to an average small company.
The same study shows that small and medium enterprises spend 12 days every year trying to get their debtors to pay up. This includes writing letters, calling, and making discounted debt offers. It's wise to first try and recover the money yourself because it's your only chance to get it back in full. As soon as you hire someone to do the job, they will want a share of the debt as their reward.
But what if you've already tried everything to recover the debt yourself and failed?

It's time to hire a professional.

Here your options are a debt collection agency or a debt attorney.

In this post, we'll focus on debt attorneys, but first, we need to see what distinguishes them from regular collectors.
Debt Collection Agency vs Debt Collection Attorney: What's the Difference?
People often confuse the two, because they do the same job – help their clients recover their money.

However, collectors and attorneys differ in three important ways:
1) The right to sue.

This is the single most important difference. An attorney has the right to take a debtor to court – though often it's not necessary. The debtor will first be prompted to negotiate with the debt collection attorney. Just the threat of litigation is enough in many cases.
A collection agency can contact the debtor by phone and via mail, but it can't sue them – unless the agency employs its own debt collection attorney. Often, collection agencies will threaten debtors with legal action even if they don't have an attorney on staff. This kind of threat is forbidden by the Fair Debt Collection Practices Act (FDCPA).
2) Fee structure.
Debt collection agencies normally define their fees as a percentage of the debt. The fee usually varies from 35% to 50% of the total amount. If the agency fails to collect a debt, it gets nothing. That's why the fee is so high: it has to compensate for the risks.
By contrast, an attorney will charge a lower percentage of the debt than a collection agency, but you might also have to pay an hourly fee. All the court expenses are extra – but if you win the case, it will be up to the debtor to pay them.
3) Debt size.
Many collection agencies will agree to work even with debts under $50. An attorney will rarely take on a case worth less than $1000.
When Should You Choose an Attorney Over a Collection Agency?
Before you take any action it's worth approaching an attorney for a free consultation. If the attorney believes that a collection agency can do the job just fine, they will tell you so.
Consider hiring an attorney in the following cases:
You want the attorney to perform a limited range of services – for instance, send a letter to the debtor. This can have a much more serious effect than letters from a collection agency.
You've already tried to get your money back through debt collectors, but they couldn't help you.
You are prepared to take the matter to court, in spite of the associated costs and the time it requires.
The debt is large enough to justify the expense. Remember that most lawyers won't accept a contingency fee alone – you'll have to pay an hourly or flat fee even if you lose.
How Much Does a Debt Collection Attorney Charge?
Debt law firms use different fee schemes that can combine some or all of the following:
In some cases, a client wants the attorney to perform a specific service, rather than pursue the matter to settlement. A good example is drafting a settlement proposal. This is called unbundled service, and attorneys usually charge a flat fee for it. Some services can cost as little as $100.
In this scheme, the attorney only gets paid after winning the case – and collecting the debt. The fee is 33% on average, but it can be as low as 15% for large debts and up to 50% for small debts.
The contingent model has one problem, though. It can happen that you win in court, but your debtor has no money or property to pay. In this case, the attorney won't be able to collect their fees, either. For this reason, most debt collection attorneys won't agree to a pure contingency fee.
This is a much safer option for the attorney, though it's less preferable for the client. Rates start from $120 an hour and can reach $350 an hour. Many debt law firms use a combination of a contingency fee and an hourly fate.

Should You Choose a Solo Attorney or a Debt Law Firm?
Let's say you've decided to go with an attorney and not a collection agency. Now you have another choice to make. Should you contract an independent debt lawyer or a large law firm?
Solo debt collection lawyer – Pros:
1) A private lawyer can't work with many cases at the same time. So they only choose those cases that they believe they can win. So if a solo lawyer agrees to work with you, it means they think your chances are good.
2) Individual approach. You'll always deal personally with your counsel, who will know all the details of your case.
Solo debt collection lawyer – Cons:
Limited resources. A solo lawyer might not have the means to access data, witnesses, experts, etc.
Excessive selectivity. Unless your case looks like a 100% win, it can take time to find a solo lawyer who will agree to take it.
Broad focus. It's not very common for a solo attorney to practice solely debt collection. Most work in several areas at once.
Debt law firms – Pros:
Reputation. A well-known brand name does matter in court, just like everywhere else. The fact that you are represented by a large firm can get you a better settlement. Your debtor will be more impressed to receive a letter from a firm, too.
Resources. A big firm has a wide network of connections – experts, paralegals, negotiators, private investigators, etc.
Debt law firms – Cons:
Mass approach. When a firm has hundreds of active cases, it can't provide a personalized approach to every client. You might get tossed from one attorney to another.
Price. Debt law firms charge more for their services than solo lawyers because they have higher operational costs and more employees.
Don't try to make a choice between a firm and an independent attorney from the get-go. Instead, contact several professionals of each type and get a price quote from each first. Then make a balanced decision based on all the factors: price, experience, and personal impressions.
How to Win a Debt Collection Lawsuit
If you sue your debtor, don't presume that the judge will decide in your favor by default. The debtor will likely hire an attorney of their own to answer your lawsuit for debt collection. Here is a list of the key preparatory steps:
Be ready to provide a credit agreement signed by you and the defendant. If you are not the original creditor, gather all the paperwork tracing the debt to its origin (chain of custody).
Demonstrate the exact amount owed.
You have to prove that the debtor owes you every dollar you are asking for. This includes any additional fees, such as late payment charges or attorney fees. They have to be present in the credit agreement signed by the debtor.
Check the statute of limitations.
You can only bring a lawsuit within the allowed period. Different states have their own statutes of limitations for debt collection, normally ranging from 4 to 6 years. If you allow too much time to pass without taking action, you won't be able to sue your debtor anymore.
Prepare for a countersuit.
If your debtor fails to challenge your right to sue or the proof you provide, they can try to sue you themselves. This can be dangerous if you've previously hired debt collectors to deal with the issue and they violated the Fair Debt Collection Practices Act (FDCPA), harassing the debtor.
Choosing a Good Debt Collection Attorney – What to Look for
Not all debt attorneys are created equal, of course. Debt collection is a popular field, so it attracts a lot of lawyers without relevant experience. When you do your online research, note the following:
Specialization: look for an attorney who specializes in debt collection.
Track record: make sure that the attorney has at least 3 years of experience in debt collection. Which law school did they go to? How many debt cases have they handled? How many have they won – and for what amounts?
References: contact the attorney's past clients (if you have their names) and ask their opinion.
Website. A real professional will have a detailed website with lots of useful content. Check the attorney's social media pages, too, if they are listed.
Fees: to minimize the expense, try to find an attorney who'll accept a partial contingency fee model (and not just an hourly fee).
Reputable Debt Collection Attorneys: 3 Examples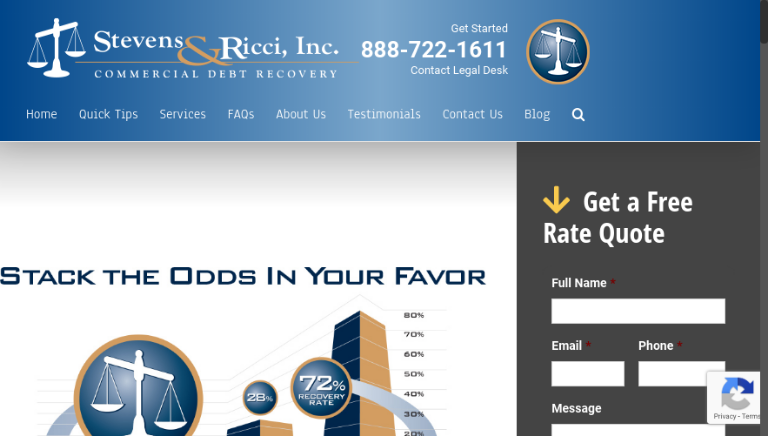 This Arizona-based firm collects commercial and business debt in all 50 states thanks to a network of partners and negotiators. It claims to have a success rate of 72% (compared to a 27% average for regular collection agencies). Stevens & Ricci works on a contingency model, with a 33% fee for debts below $1000 and as low as 20% for larger debts. The firm can take cases to court, though this is a last resort measure.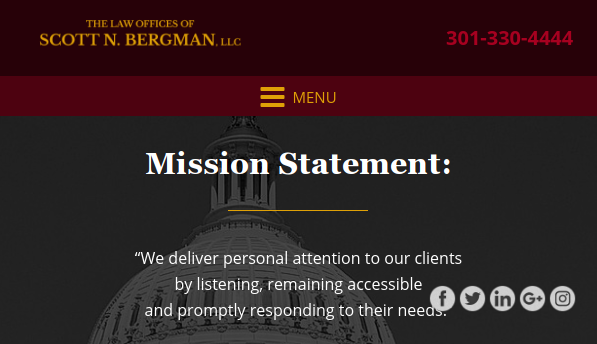 This group of attorneys is based in Maryland but serves clients across the US and 200 countries of the world. The firm mostly works on a contingency base and provides free initial consultations. It uses a proprietary algorithm called PeopleMap (developed by WestlawNext) to track debtors. The firm is licensed by the Maryland Department of Labor, Licensing and Regulation and enjoys an A+ rating from the Better Business Bureau.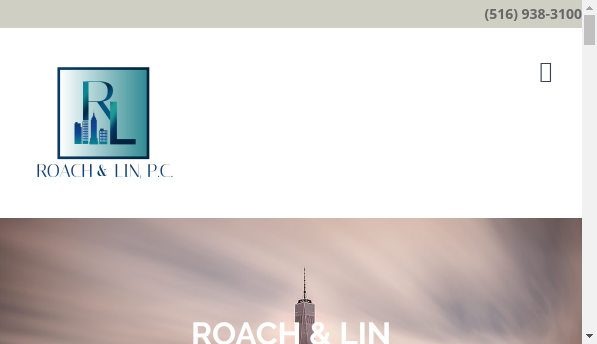 This small firm based in New York State employs both attorneys and collectors. It collects all types of debt, including accounts receivable, promissory notes and judgements. In case of litigation, Roach & Lin relies on computer technology to locate the debtor's assets and make banks freeze their deposits. Apart from debt collection, the firm also specializes in foreclosure, bankruptcy and loss mitigation.
Bottom line
You should only hire collectors or attorneys once you've tried everything to get your money back on your own. Before you sign up for anything, get a free consultation from a debt collection attorney.
If you conclude that it's better to go with an attorney rather than a collection agency, seek out both law firms and solo attorneys that serve your state. Debt collection should be their main practice area, and ideally, they should offer a contingency fee model.
In many cases, your debtor will agree to pay rather than go to court. If legal action turns out to be the only option, make sure you are ready to prove your case.
Creditors often think of collection agencies as their only hope. In fact, debt collection attorneys have a better success rate – but the costs can be higher, too. Only a professional will be able to tell you which is the better avenue in your specific case. One thing you shouldn't do is delay the matter. Remember: the sooner you take action, the higher your chances to recover the debt.
Was this information helpful?
Shaylee Packer
August 24, 2020 at 2:20 pm
As you mentioned, the attorney has the right to take the debtor to court, if things go that far. My brother owns some rental properties, and he has one unit that hasn't paid rent in quite some time. What are his options as a property owner to get the money that he is due?