What is a Payday Loan (Online and In-Store)
Table of Contents
---
Payday loans have become popular both due to the high demand and also due to the various advertising companies in mass media and the Internet. These loans are also known under the names of cash advance loans and gained such popularity not without a reason. They are intended as instant financial help for people in a situation of emergency and are available to all borrowers.
In present-day America, about 80% of families live from paycheck to paycheck.
A lot of people get such a small salary that it is frequently not enough to make ends meet. It becomes a real problem when some unexpected expenses come on the way. This is quite understandable that friends can help; however, more and more people tend to choose payday loans against all the other options; and first of all for their convenience.
It is normal that where there's demand, there's supply. In the financial sector, this business branch is sufficiently enough presented. With the advent of the Internet, infrastructure has spread even wider.
---
1. What is a Payday Loan and Why People Choose That?
Payday loans (cash advances or check loans or deferred deposit transactions) are small short-term unsecured loans with the small amount that are supposed to be repaid on the next person's payday.

Such loans are either given against a personal post-dated check that is cashed by a lender on a payday, or they are repaid by means of electronic money transfer when a lender withdraws a repayment from a borrower's bank account on due payday.

The lenght of an average payday loan is 2-4 weeks.
According to the CFPB 2013 report, a payday loan idea may be good practice for consumers who need immediate funds for a short period of time but they should have a reliable cash income to be able to cover loans within a very tight time scale.
In accordance with the Pew Charitable Trusts 2015 report based on survey payday loans have the following features.
These are small cash loans offered for a short term with APR 300-500% on average that are supposed to be repaid in two-week period;
The number of Americans that use payday loans annually is about 12 million with an average fee of $520 for a $375 loan;
69% used payday loans to cover recurring expenses;
16% use such loans for cases of an unexpected expense
Most payday borrowers make $30K a year or more;
Payday loans are advertised on the internet, on TV, and through regular mail, and are aimed at people who have trouble making it from one payday to another;
Though advertising presents payday loans as an emergency source of funds, 70% of customers use them to pay regular expenses, such as utility bills;
The majority of payday lenders have loan shops in poorer areas;
The survey showed that 75% of borrowers feel that this credit sector is insufficiently regulated;
The general public supports CFPB efforts for better regulation of the industry. (CFPB framework proposal).
A certain percent of the respondents are inclined to accept the alternative small cash opportunity provided by banks despite the fact that they are likely to be more expensive than usual credit card offers and similar products.
In accordance with the Online Lenders Alliance Report the following payday loan characteristics can be indicated:
The average median loan amount is $428
The average median loan cost is $113
The average median loan term is 20 days
The average median annual days indebted are 73 days
The report also states that "The demand for small dollar, short-term credit remains significant with a modest reduction of 8 percent from $49 billion in 2012 to $45 billion in 2014."

Nonprofit Client Survey Reasons Why People Get Payday Loans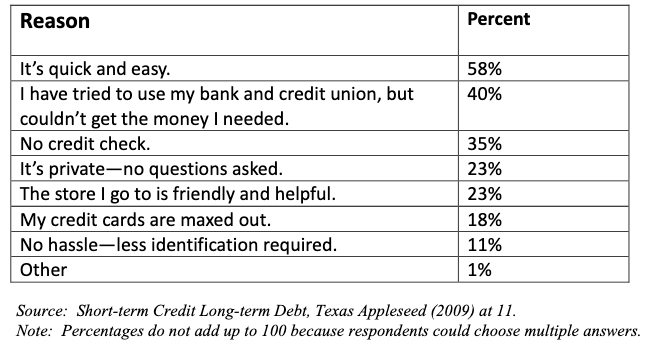 2. How do Payday Loans Work?
Getting a loan
The two main ways to requesting a payday loan are online or from a brick-and-mortar loan shop. When using an online platform, you'll need to provide the creditor with an ACH authorization to withdraw the loan amount together with the accrued interest from your bank account at the end of the loan period. If requesting a loan from a storefront, you'll also be able to write a check.
Requirements
You have to be 18 and have a bank account (see the full requirement list);
In some states, a lender can check your payday loan history in the special database.
Repayment
The standard loan duration is 14 days, which is when you'll need to repay the principle together with the interest; sometimes loans are issued until the day of the next paycheck;
Some states have enabled EPPs, or extended payment plans, which allow to repay in regular installments (usually spread across 3 or 6 months. In some states, such as Texas, EPPs have gained huge popularity.
Rollovers
If you are unable to repay the loan on the due date, it will usually be extended (rolled over) for another 14 days. Every extension is subject to additional interest and sometimes also extra fees (such as the overdraft fee, which results from the lender trying to withdraw money from an account with insufficient balance).
Cancellation
You have the right to cancel your payday loan within the next working day without paying any fees;
Collection
A lender has the legal right to collect payday loan but these rules are different in every state (see collection payday loan practice)
Calculating Payday Loan Costs (Calculator)

For example, you want to borrow $200 for 14 days, and the interest rate is 15%, or $30.

You provide the lender a check for $230 or you give electronic permission to the lender to debit your account. You receive $200 in cash or on your bank account, which you spend on paying the bills and food. 

Two weeks later, the lender can cash a check or debit your bank account (for $230).

If you don't have the money to pay back the loan, so you have to do a rollover. The extra $30 in interest is added to the amount you owe so that at the end of the rollover period you'll need to pay $260. 

The result is that you will have paid $60 to borrow $200 for a month: a cost of 60/200=30% a month, or a staggering 360% a year.
3. Payday Loan Interest Rates, Amount and Fees
Any person can apply for payday loans which are usually issued in sums up to $1,000.
It is common knowledge that interest rates charged on such loans are rather high ranging from 10% to 20%.
The rates differ depending on the state and the company in the first place. However, legally operating lenders do not charge more than is allowed by the state laws and therefore this information should be taken into consideration.
The annual rate of interest charged in payday loan service is termed as Annual Percentage Rate, and it is often high due to the short-term and unsecured nature of this type of credit.
As an example:
in Texas – 662%;
in California – 460%;
in Utah – 698%.
To understand how much can a person pay for such loans, let's count:
Every $100 borrowed fee will be $15 (common). After 2 weeks $115 must be returned ( $15 – it's about 400% of the annual percentage rate for a short period of such loan).
If a person can't pay money on time, there are 2 ways
The rates differ with regard to a lender and a state.
Some states have more restrictive rules about short-term lending, others are more lenient. The former either ban such type of credit on their territory entirely or request that lenders adhered to a fixed rate (usury cap) that cannot be exceeded; the latter allow more freedom (they are a minority at the moment).
How Different Payday Loans and Other Options?
Credit Cards
Secured Loans
Pawn Loans
Payday Loans
Annual Percentage Rate
16%
28%
180%
up to 700%
Average Amount of Fees
$0.61
$1.07
$7.00
Per $100 borrowed –
$15-35
4. Payday Loan Basic Requirements
Payday loans have got shortlist of requirements for potential borrowers.
In the process of getting a regular loan a person has to go through a lot of hassle and paperwork but for the most part, he or she should meet the requirements of a bank and the latter is pretty strict in the majority of cases. Among the main things that a person should have is good or perfect credit history. This comes as a stumbling block for quite a great number of borrowers as it is pretty hard to keep your credit score perfect in the present-day conditions.
Actually, it is much easier to get approval for a payday loan than for other loan types.
The payday loan requirements are minimal.
They include a shortlist of things that are generally not a problem for a borrower to provide. All lenders have their own policies and terms that can differ; however, approval for payday loans is given in case the following requirements are met:
An applicant should be a citizen of the US.
An applicant should provide proof of age and identity.
An applicant should be of age – a minimum of 18 years.
An applicant should provide a verifiable physical address (phone or utility bill).
An applicant should provide proof of income that is no lower than $1000 per month.
An applicant should have a valid checking or savings account in a bank.
Payday loans can be applied by any borrowers regardless of the state of their credit history. No collateral or co-signers are necessary to get approval for a payday loan.
HOWEVER, it should be taken into consideration that payday lenders can perform credit checks at their own will; and the credit decision might be influenced by the state of a borrower's credit score in question.
The application process takes minutes and it is almost 100% approval service. As it has been aforementioned, payday lenders do not perform any credit checks.
5. Payday Loan Duration
This type of loan is called 'payday' for a reason: the due date is usually the day when the client gets the next paycheck, which is commonly 14 days.
Different states have introduced different minimum and maximum limits: for instance, in Texas, a payday loan can run from 7 days to 180 days, while in Utah the maximum is 70 days.
California doesn't allow a payday loan to run longer than 31 days.
6. Terms and Conditions of Payday Loans
What is important to realize about payday loans is that the terms and conditions are different in different lenders. Even when you take the same loan sum but from another lender or use the services provided by the same lender, you are to read the terms and conditions thoroughly because they change often.
A payday loan is a type of unsecured cash advance and this implies that borrowers do not need to provide any collateral to obtain this loan.
However, applicants should provide a post–dated check or permission to the lender to withdraw the loan amount from their bank account once they get the next paycheck.
As far as these loans are short in terms, it's quite normal that lending companies charge fees and high-interest rates, which are doubled if you fail to repay the loan on time.
The terms and conditions stipulated in the contract include your right to roll over the payday loan. This means you may take another cash advance if you are not able to pay back the previous loan. However, be careful referring to the loan rollover as this can trap you in a bad cycle of debt.
People with bad credit will find the terms and conditions of payday loans very favorable as traditional loan types are frequently unavailable for them.
Before signing the contract you are to be sure you clearly understand the terms and conditions of a payday loan you have chosen. Take out only the sum you are sure you will be able to repay so that to stay away from problems attributed to high rates of interest, rolling over loans, and getting into a debt cycle.
ALWAYS READ the TERMS and CONDITIONS of loans you plan to take.
7. The Difference Between Applying Payday Loan Online and In-Store
The procedure of getting a payday loan online and offline (at a loan store) is very similar. Here are the key 7 steps:
1) Fill an application
You'll need to provide:
a) proof of regular income
b) your bank account number;
c) your permanent address.
Storefront: bring the documents in hard copy.
Online: you can fill the application on any device, attaching the necessary documents.
2) Get an approval
Storefront: on the spot, usually within an hour.
Online: within minutes after you submit the form.
3) Review the agreement
The contract should include:
– the full cost of the loan – both as an itemized list of fees in USD and as an APR (Annual Percentage Rate);
– a description of how you can file a complaint against the lender;
– an explanation of how and when you can cancel the loan and get a refund of the fees;
4) Sign the agreement
Storefront: sign in hard copy.
Online: sign by checking a box that acts as an electronic signature.
5) Provide a guarantee of repayment
Storefront: You'll write a check for the whole amount of the loan plus the fee. Alternatively, you can sign a pre-authorization form for the lender to debit your account electronically.
Online: preauthorize an electronic debit.
6) Collect the proceeds
You'll get the loan amount minus the fee.
Storefront: In cash, by check, via an electronic transfer into your account, or by loading it onto a prepaid card. Note that receiving the proceeds by check or a money transfer can incur an additional fee. This must be stated in the contract.
Online: electronically into your account, usually on the same day or even instantly.
7) Repayment
You are supposed to repay the loan before or on the due date – normally your next payday, or when you receive your pension or social security benefits. Note that some states limit the maximum duration of the loan. For example, in Michigan, it's 31 days. If you don't do it yourself, the lender will get your account credited.
Storefront: the lender deposits the check or initiates an electronic debit.
Online: via electronic debit.
In some states, you can ask for a 'rollover' if you can't pay on time. In this case, the loan is extended until your next payday, but you still have to pay the fees.
One has to be careful when using online payday loan services. Some of them are nothing but a cover for collecting users' personal and financial data, which they sell to third parties, including scammers.
Attention!
Check the lender's license while using online payday loans:
Money can be taken from your checking account without your permission;
Fees can be much higher than permitted by law;
Your personal information can be sold to 3rd parties;
Online lenders can be located out-of-state, making it difficult to find them if they break the law.
8. Payday Loans Legislation
The main body defending the interests of payday borrowers is the Consumer Financial Protection Bureau (CFPB), instituted in 2011. It closely monitors the situation in the payday lending market, publishes regular reports, and helps develop new regulations.
Various states have their own laws and regulations. According to the federal Truth in Lending Act all payday lending companies are obliged to disclose loan costs and provide full and clear information about all the financial charges referring to a loan. This refers to interest rates and APR; the latter should be provided in dollar amount and before the actual agreement is signed by a lender and a borrower.
About 20 states have banned payday loans completely or introduced such strict regulations that it's become virtually impossible for payday lenders to operate there.
Question/Answers
---
Can payday lenders sue you?
Payday loan agencies will often threaten court action or even arrest if you default on the loan. In most cases, they are simply lying, and their threats are illegal.
So, can they get you arrested? In one word, no. You can't get arrested if you don't repay, because it's not a criminal offense.
Can the lender sue you? Only if they have a licensed debt lawyer on their staff.
If the lender can't convince you to repay, they will likely turn over your debt to a collection agency. If the collection agency works with a debt attorney, that attorney can theoretically take you to court. However, first, the lawyer will send you a legal letter demanding repayment.
If you do receive an order to appear in court, don't ignore it! Otherwise, a judge can indeed issue an arrest warrant.
---
Can you have two payday loans at once?
How many payday loans you can have depends on your state.
For example, Michigan and Kansas laws allow you to have two payday loans, but they have to be with different lenders.
In Washington, the two loans together can't exceed 22.5% of your monthly income – and you can only get 8 within 12 months.
And in Utah – the state with the most relaxed payday lending laws – you can get several at once.
By contrast, in California, you can have only one outstanding payment loan.
Those states that have limitations on the number of payday loans maintain special databases of borrowers. Before signing a loan, the payday lender must check the database.
---
Why should you be cautious of payday loans?
There are 4 main risks to consider when you apply for a payday loan:
1) High fees.
When you borrow $100 and pay $15 as a fee, it may not seem like much. But the annual rate (APR) can be as high as 500% or more.
2) Risk of multiple withdrawals.
When you pre-authorize the lender to debit your account, they are supposed to do it only once. But sometimes fraudulent lenders make several withdrawals, charging a fee every time.
3) Risk of identity theft.
There are many fake online payday lenders out there. They can steal your personal and financial data and sell it on the black market.
4) Extra fees.
If you can't repay the loan on the due date, you'll have to pay a special renewal fee. Or, if the lender tries to debit your account and there aren't enough funds, you'll be slapped with an insufficient funds penalty.
---
How to get out of payday loans
If you keep getting new payday loans to pay off old ones, you'll just sink deeper into debt. Instead, try the following:
1) Ask for extended repayment. Many of the larger storefront lenders offer such installment plans – especially if they are members of the Community Financial Services Association (CFSA). For more info, see the CFSA best practices.
2) Refinance the loan. Payday lending isn't the only avenue open to people with bad credit. You might be able to get a loan from a credit union or an advance from your employer. Another option is a personal loan with a co-signer.
3) Cut expenses. Every dollar you save makes a difference. Shop at a cheaper supermarket, cook all your meals yourself, and save energy. See here for more money-saving tips.
4) Build credit. Instead of looking for bad credit loans, you should start working on your score. For example, you can take out a special credit builder loan (see here for details).
---
Do payday loans help your credit?
A payday loan won't help your credit, but debt lawyerit can hurt it.
Payday lenders don't report your loans to the national credit bureaus like Experian. So even if you pay it off on time, it won't improve your credit score. On the other hand, the lender won't run a credit check on you, either – which is why people choose payday loans in the first place.
However, if you fail to repay on time, the lender can turn your debt over to a collection agency. In this case, the collector might report the loan to a credit bureau, and your score will suffer.
---
Can you file a bankruptcy on payday loans?
Yes, you can usually discharge a payday loan when you file a Chapter 7 bankruptcy. In addition, an Automatic Stay will be applied to your account, barring any collection activity, so the lender won't be able to debit your account.
However, this only applies to payday loans older than 90 days. If you file bankruptcy soon after taking out a loan, it will look like a fraud – as if you didn't intend to pay off the loan in the first place. In this case, the lender may file an objection with the court against the discharge.
If your payday loans are recent and you absolutely have to get out of debt, it's better to file a Chapter 13 bankruptcy and repay at least a part.
---
Do payday loans affect your credit?
A payday loan can impact your credit score in some cases, but that impact will be negative.
The main advantage of a payday loan is that the lender won't run a credit check on you. Even if your score is low, your loan will still be approved. But this works both ways: if you pay off the loan on time, the lender won't report it to the bureaus, so your score won't grow.
However, if you don't pay, your loan can get passed on to collectors, and they will report it to the credit bureaus. Your credit score will suffer as a result.
A payday loan can hurt your credit, but it won't improve it.
---
How to pay off payday loans
When you take out a payday loan in a storefront, you'll normally write a post-dated check or a pre-authorization, so that the lender can get the money on the due date.
For online loans, you always need to pre-authorize the lender to debit your account electronically.
A frequent trick of payday lenders is to automatically renew your loan on the due date. Instead of debiting the full loan amount, they'll just charge you the fees. Read the contract carefully before signing: if there's an automatic rollover clause, you'll need to repay the loan a few days in advance to avoid a costly renewal.
---
How to pay off multiple payday loans
According to Consumer Finance Protection Bureau, more than 80% of payday loans are renewed. If you have more than one payday loan, you may find yourself renewing them again and again. To break out of this cycle of debt, you should try and consolidate them.
A debt consolidation loan will combine all your payday loans into one – and with a much lower interest rate. Instead of an APR of 500%, you'll be paying under 35%. You'll also have at least a year to pay it off.
If you have bad credit, you can still consolidate your payday loans. A good option is a secured loan through a credit union, a home equity loan, or a personal loan with a co-signer. When your loan is approved, ask if your new lender can pay off your old creditors for you.
---
How to stop payday loans from debiting my account?
If you're worried that the payday lender might try to make a fraudulent withdrawal from your account, you can use one of the two methods (or both):
1) Revoke authorization
When you took out the loan, you probably pre-authorized the lender to debit your account. To cancel that authorization, you should call your bank and submit this form. After that, inform the lender.
2) Stop payment order
Call your bank at least 3 days before the due date and ask them to prevent the lender from debiting your account. They might ask you to submit the request in writing. Here's a sample form.
Important! These actions won't cancel your loan contract. You'll still be obliged to pay off the loan on the due date.
---
Can a payday lender garnish my wages?
By law, a payday lender can only garnish your wages if they get a garnishment court order. But to obtain that order, the lender will have to contract a debt lawyer to sue you. Without a debt attorney, a payday loan agency can't take you to court anyway.
However, many lenders illegally try to garnish wages. They even include small-type clauses like 'wage assignment' in their contracts. In one case, payday lenders were ordered to pay over $300k for committing this fraud. If this happens to you, call your lawyer and don't panic: the lender is in the wrong.
---
More questions about payday loans read here.
Was this information helpful?